See NCT 127's Desert Adventure in New "Highway to Heaven" Music Video
We found the highway to heaven ... and it's conveniently located in NCT 127's new "Highway to Heaven" music video. Not long after sharing the English version of "Highway to Heaven," the k-pop group has shared the official visual for the song. This new video follows the first version, a black and white visual released during the North American leg of their "Neo City: The Origin" tour this year.
Wearing matching black pants and white button down shirts, in the video, all of the NCT 127 guys are hanging around the desert — the Mojave Desert to be exact — while pulling off some amazing choreography, as well as partaking in some joyrides on the desert highway.
Got room in the car, guys?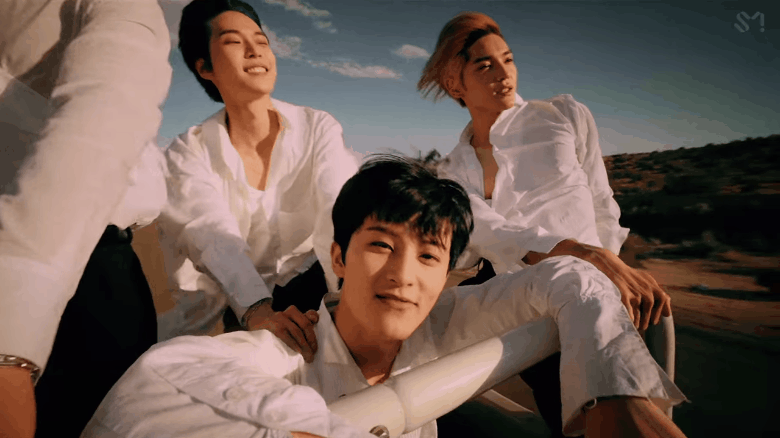 NCT 127 just wrapped up their "Neo City: The Origin" tour a few days ago on top of having a very exciting year. The group, consisting of Taeil, Johnny, Taeyong, Yuta, Doyoung, Jaehyun, Jungwoo, Mark and Haechan, released their We Are Superhuman EP back in May, which features the original version of "Highway to Heaven," along with five other songs. The guys have also collaborated with artists including Jason Derulo and Ava Max, and were nominated for a Teen Choice Award in the International Artist category.
In a recent interview with i-D, the band's Mark said if all their success this year and hectic schedule, "Once you start, you just keep going. I feel like we've been doing that ever since we started this team. We're just thankful for all that's happening." Johnny added, "We have to lean on each other, because doing everything by yourself would be impossible. When we're at our lowest points during the tour, we're always helping each other out."
Mark also explained of the guys' relationship, "We have been together for so long that we feel like brothers, so touring and staying away from home make touring itself home."
Watch NCT 127's "Highway to Heaven" music video above.